Screenwriter/co-producer Mike Brody and I are preparing to attend the Borrego Springs Film Festival. Table 47 screens on January 17th. We expect to have some of our investors and several of the cast on hand for the premiere.
From the January 1 edition of the Borrego Sun, story by Nancy Bye…
Sneak Peek at the Film Festival
 "Table 47" is one of the feature films selected to be shown at the festival, January 15 to 19. It is a crime thriller about a bar owner who falls for a married woman with an abusive husband. It was produced by Double Play Films on a very small budget and shot in Colorado. Written by Michael Brody, it stars Michael Haskins, Cougar Littlefield, Louise Macdonald, Risa Scott, Robb Taft and others.
The director is Jeff Kingery, and movie making is a new career for him. He will be here for our panel Monday morning. He was the radio broadcaster for the NBA's Denver Nuggets for 11 years and then for the Major League Baseball's Colorado Rockies for 17 years.
We don't want to give away any secrets, but a quote picked up from the trailer for this new film is "Man plans. God laughs." Don't miss it!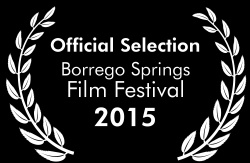 Borrego Springs is northeast of San Diego.  It is surrounded by the 640,000 acres of Anza Borrego Desert State Park and is San Diego county's only desert community
This natural beauty has long attracted filmmakers and explains the area's strong historical connection to Hollywood.  Borrego Springs was a hideaway for movie stars as early as the 1950's.
If you are in the Southern California area, join us!  Festival information and tickets to the Table 47 screening are available at borregospringsfilmfestival.org