Click the link to buy tickets now for the May 16 Colorado premiere –
http://www.denverfilm.org/filmcenter/detail.aspx?id=27439
The Sie Theater is at 2510 E. Colfax in Denver.  There is a parking garage next door.  It's FREE.
We look forward to seeing you at the show!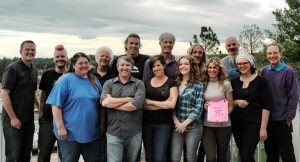 Left to Right:  Charlie Fink – Data Wrangler, Joel Walker – Boom Operator, Lisa Sanow – Script Supervisor, Michael Brody – Screenwriter, Matt Mertens – Assistant Director, Michael Haskins – Actor (Peter Gryszek), Samantha Randel – Gaffer, Dave Schaaf – Production Sound Mixer, Sarah Clark – Key Makeup Artist/Hair Designer, Ken Hendricks – Director of Photography, Danielle Prall – Actor (Amy Cain), Jim Brennan – Assistant Camera/Key Grip, Angelique Bishop – Assistant Hair and Makeup, Jeff Kingery – Director.